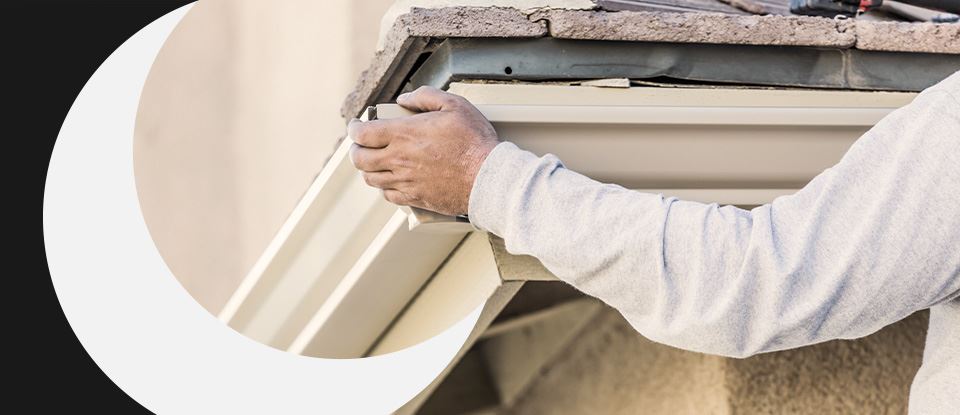 Delaware County Gutter Protection
Your Home Deserves Gutter Guards
At Rest Easy Roofing, we understand the importance of maintaining clean and functional gutters to safeguard your home from water damage, foundation issues, and other costly problems. Our commitment to excellence, combined with cutting-edge technology, ensures that your gutters remain free from debris and clogs while effectively channeling rainwater away from your property.
Gutters clogged with leaves and debris can lead to overflowing gutters, ice buildup and ice dams. These issues can create too much weight within your gutter system and damage or pull your gutters down. Clogged gutters will also eventually lead to prolonged moisture exposure to your home. Over time, this moisture can seep into your home and cause thousands of dollars in water and mold damage.
Give us a call at (740) 327-5086 or send us a message online to learn more about gutter protection services in Delaware County!
What Are the Benefits of Gutter Guards?
Gutter guards, a cornerstone of our gutter protection solutions at Rest Easy Roofing, offer a host of benefits that can transform the way you maintain and protect your Delaware County home.
Here's why investing in gutter guards is a smart choice for homeowners seeking a hassle-free and efficient solution to gutter maintenance:
Prevents Debris Buildup: Gutter guards act as a barrier, preventing leaves, twigs, pine needles, and other debris from entering your gutters. By keeping gutters clear, you eliminate the risk of clogs that lead to water overflow and potential damage.
Reduces Maintenance Frequency: Regular gutter cleaning can be time-consuming and hazardous. Gutter guards significantly reduce the need for frequent cleaning, saving you both time and the hassle of climbing ladders to clear out debris.
Protects Against Water Damage: Clogged gutters can cause water to overflow, leading to water damage on your home's exterior, foundation, and landscaping. Gutter guards ensure rainwater flows seamlessly through your gutters and away from your property.
Minimizes Pest Infestations: Debris-filled gutters can attract pests like insects, birds, and rodents, creating an ideal breeding ground. Gutter guards deny pests access to standing water and nesting sites, contributing to a pest-free environment.
Prevents Ice Dams: During winter, accumulated debris in gutters can lead to ice dams that block water flow and cause roof leaks. Gutter guards prevent debris buildup, reducing the risk of ice dams forming.
Extends Gutter Lifespan: The reduced exposure to moisture and debris afforded by gutter guards can extend the lifespan of your gutters, saving you from premature replacement costs.
Enhances Curb Appeal: Gutter guards maintain the clean and unobtrusive appearance of your gutters, enhancing your home's curb appeal and overall aesthetic.
Improves Water Collection: For homeowners with rainwater collection systems, gutter guards ensure cleaner rainwater by preventing debris from contaminating the collection process.
Preserves Landscaping: Properly functioning gutters with guards prevent excess water from spilling onto your landscaping, protecting plants, flowers, and soil from erosion and damage.
Peace of Mind: With gutter guards in place, you can enjoy peace of mind knowing that your gutters are functioning optimally, even during heavy rainfall.
At Rest Easy Roofing, we offer a range of gutter guard options that suit your home's specific needs. Our skilled team specializes in the installation of gutter guards, ensuring a precise fit that maximizes protection.
Types of Gutter Guards
The five main types of gutter guards available are:
Screen
Micro mesh
Reverse curve (or surface tension gutter guards)
Brush
And foam
Each type has its own set of advantages and considerations.
Contact us to learn more about the benefits of gutter guards and how they can enhance your Delaware County home's maintenance and overall well-being.
Screen Guards
Screen guards feature a wire or a plastic grid that blocks leaves from entering the gutter trough. They're easy to install by lifting the bottom row of roof shingles and sliding the edges of the gutter screens beneath the shingles along the entire length of the gutter, so that the weight of the shingles holds the screen in place.
Screen gutter guards are an inexpensive option and offer the simplest installation, often no tools are needed. Gutter screens are not screwed down and so may be dislodged by high winds or knocked out from under shingles by falling branches.
Additionally, prying up the lower row of roof shingles to install slip-under gutter guards voids certain roof warranties. Contact the shingle manufacturer before installing this type of gutter guard if you have concerns.
Micro Mesh Guards
Micro-mesh gutter guards are similar to screens, allowing water to run through small holes while blocking twigs and debris. They require one of three simple installation methods: slipping the edge under the first row of roof shingles, snapping the guard directly onto the top of the gutter, or attaching a flange to the fascia (the vertical strip just above the top of the gutter).
Micro-mesh gutter guards are effective at blocking even small bits of debris, such as blowing sand, while allowing rain to flow through. They're made of various materials, from inexpensive plastic to strong stainless steel. These gutter guards may require occasional cleaning with a hose sprayer and scrub brush to clear ultrafine debris from the mesh holes.
Reverse Curve Guards
Reverse-curve gutter guards are made from lightweight metal or molded plastic. Water flows over the top and around a downward curve before dropping into the gutter beneath. Leaves and debris slide right off the edge and fall to the ground below. These gutter guards work well for keeping leaves and debris out of the gutter, even in yards with numerous trees.
Reverse-curve gutter guards are more expensive than mesh guards and screen options. They're less DIY-friendly than other types and must attach at the correct angle to the roofs fascia. If not installed properly, water can run over the edge, rather than following the reverse curve into the gutter.
Since they install above the existing guttering, they can appear like full gutter covers from the ground, so its advised to look for a product that matches the color and aesthetic of the home.
Foam Guards
Another easy-to-use option is essentially a triangular block of foam that sits in the gutter. One flat side lies to the back of the gutter, another flat side faces up to the top of the gutter to prevent debris from entering, and the third flat side lies diagonally in the gutter, which allows water and small debris to flow through the drainage system.
These gutter guards are inexpensive and easy to install, making them a great choice for DIYers. The foam can be cut to the proper length, and the guards don't require nails or screws to remain in place, so there's less risk of damage or leaks. However, they aren't the best for locations that experience high levels of precipitation because heavy rain can quickly saturate the foam, causing the gutters to overflow.
Interested in learning more about gutter protection? Call (740) 327-5086 or contact us online to speak with our knowledgeable team!
Hear What Our Customers Say
Reviews & Testimonials
At Rest Easy Roofing, your satisfaction is our priority! See for yourself what our customers have to say about working with us.
"The price was very reasonable!"

They did a great job installing gutter topper on our gutters. They cleaned the gutters thoroughly before installing the ...

- Steve

"Value and quality of service can't be beat."

Great price, great service, professional installation. I was gone at work all day and came home to everything being cleaned ...

- Jarred

"Honest company that could handle all our roofing repairs!"

After a storm damaged my father's home I reached out to Rest Easy Roofing for help and I couldn't be happier. They came out ...

- Nicole Blake

"Excellent workmanship!"

These guys do a fabulous job. Top to bottom. The integrity and personal touch goes hand in hand with their excellent ...

- Hal B. B.

"Professional and clean!"

Crew went right to work and kept working through a cold rain. They did a great job cleaning up all materials and made several ...

- James H.

"Their commitment was a 100% on time!"

I would highly recommend Rest Easy Roofing. The entire process was executed as explained. Their commitment was a 100% on ...

- Diane Peterson