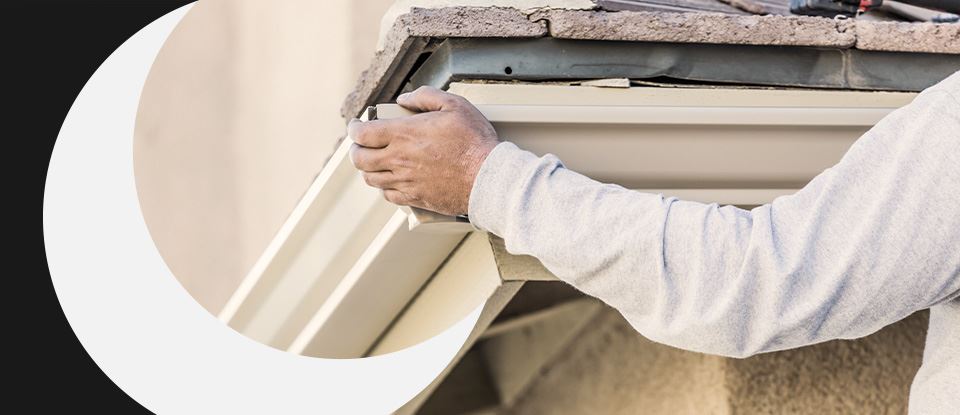 Delaware County Gutter Cleaning
Gutter Cleaning Made Simple in Delaware County and the Surrounding Areas
If you are searching for a dependable gutter cleaning service in Sunbury, Rest Easy Roofing LLC is the preferred choice. We safeguard your residential or commercial property from gutter debris buildup. We utilize industry standard top quality equipment and provide efficient, client - driven service in order to guarantee your satisfaction every time.
---
Call (740) 327-5086 or reach out to Rest Easy Roofing online today to request gutter cleaning services in Delaware County!
---
Protect Your Property With Clean Gutters
The key purpose gutters serve is to channel the flow of excess rainwater from your roof and direct it to the downspout and into a targeted area away from your home. Without gutters, free flowing water can leak into your home or damage items around the base of your structure.
Clogged or overflowing gutters can lead to a host of problems, including:
Foundation damage
Basement flooding
And even structural issues
Gutters will inevitably collect sticks and leaves that obstruct water flow. Once your gutters are blocked, a professional cleaning from a reputable company is essential. We offer an affordable Delaware County gutter cleaning service that meets your budget.
Signs You Need Gutter Cleaning
Some of the signs that you need to clean your gutters include:
Sagging or bulging gutters
Gutters that are filled with debris
Water pooling around the foundation of your home
If you notice any of the following signs, please contact our team to schedule your appointment.
How Often Do You Need Professional Gutter Cleaning?
At Rest Easy Roofing LLC, we understand the importance of maintaining your gutters to protect your home from water damage. In order to keep your gutters functioning optimally, it's crucial to know how often you should schedule professional gutter cleaning.
As a general guideline, we recommend having your gutters professionally cleaned at least twice a year.
Spring Cleaning: The spring season is an ideal time to schedule a thorough gutter cleaning. During the winter months, gutters can accumulate a significant amount of leaves, twigs, and other debris carried by wind or falling from nearby trees. By removing this debris in the spring, you prevent clogs and blockages that can hinder proper water flow during the rainy season.
Fall Maintenance: The fall season is another critical time for gutter cleaning. As trees shed their leaves, it's common for gutters to become overwhelmed with foliage. Failure to remove the leaf buildup can lead to gutter blockages, which can cause water to overflow and potentially damage your roof, siding, and foundation. By scheduling professional gutter cleaning in the fall, you ensure your gutters are prepared to handle the increased rainfall and prevent water-related issues.
This schedule ensures that your gutters stay free from debris and can effectively channel rainwater away from your home.
In addition to these seasonal cleanings, it's essential to remain vigilant throughout the year. Keep an eye on your gutters for any signs of blockages, such as water overflowing or dripping from the sides. If you notice such issues, it may be necessary to schedule an additional gutter cleaning service.
Remember, regular professional gutter cleaning not only protects your home from potential water damage but also extends the lifespan of your gutters, saving you from costly repairs or replacements down the line. Don't wait until problems arise—schedule your gutter cleaning service with Rest Easy Roofing LLC today and keep your home protected all year round.
Straight Forward Gutter Cleaning Services in Delaware County
When you choose for your gutter cleaning, gutter repair, gutter installation, and other services, you can count on exceptional work and outstanding customer service. We always provide estimates for gutter cleaning, gutter installation, gutter repair, gutter guards and other services. Please contact us to schedule an estimate or service call in .
Gutters are designed to protect your structure and landscaping. When functioning properly, they smoothly drain water away from the building shielding it from excess moisture. Gutters that are blocked by leaves, branches and other foliage cause water to spill over immediately around your homes base, or worse, back inside your home. A routine gutter cleaning eliminates the possibility of water damage in key areas in and around your home.
---
Call (740) 327-5086 or reach out to Rest Easy Roofing online today to request gutter cleaning services in Delaware County!
---
Hear What Our Customers Say
Reviews & Testimonials
At Rest Easy Roofing, your satisfaction is our priority! See for yourself what our customers have to say about working with us.
"The price was very reasonable!"

They did a great job installing gutter topper on our gutters. They cleaned the gutters thoroughly before installing the ...

- Steve

"Value and quality of service can't be beat."

Great price, great service, professional installation. I was gone at work all day and came home to everything being cleaned ...

- Jarred

"Honest company that could handle all our roofing repairs!"

After a storm damaged my father's home I reached out to Rest Easy Roofing for help and I couldn't be happier. They came out ...

- Nicole Blake

"Excellent workmanship!"

These guys do a fabulous job. Top to bottom. The integrity and personal touch goes hand in hand with their excellent ...

- Hal B. B.

"Professional and clean!"

Crew went right to work and kept working through a cold rain. They did a great job cleaning up all materials and made several ...

- James H.

"Their commitment was a 100% on time!"

I would highly recommend Rest Easy Roofing. The entire process was executed as explained. Their commitment was a 100% on ...

- Diane Peterson